Thank You, Mike – RIP :(
Foreword: As often is the case, this began as a private journal entry, which is why its not "all about Mike" and also to do with me - though it really is mostly about Mike. Writing is cathartic for me... as was writing the journal entry now modified for this blog. I decided to share it in the event it helps people interested come to know Mike from a perspective of a competitor; hopefully the parts about Boloco and myself offer helpful context. If not, my sincere apologies.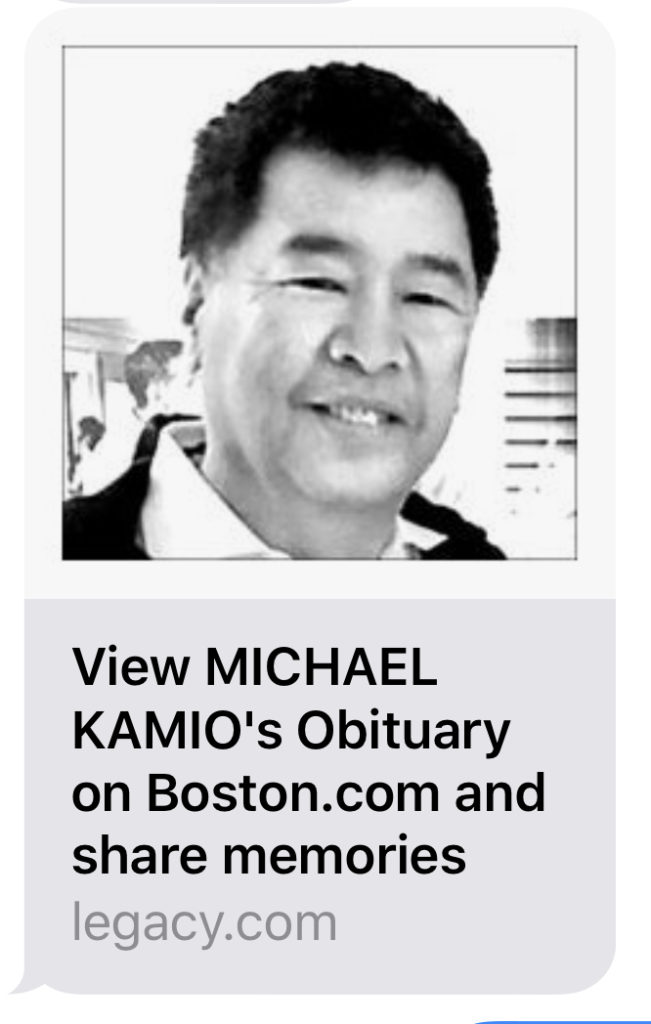 As I exited the Bikram Yoga studio in White River Jct, VT this evening, a notification popped up from my friend Tom O'Keefe, aka @BostonTweet. "Holy Crap", it said. Tom doesn't talk like that, so I opened it immediately. There was a link to the obituary of Mike Kamio, founder of Anna's Taqueria. He died suddenly, it said, this past Friday. Tom is one of the most loyal customers and supporters of Anna's I've ever known. One might wonder how we ever became friends!
I got in my car and slipped and skidded my way home in the quickly accumulating snow. I thought about everything that Mike and Anna's have meant to me over the past 21 years since I first met him.
It was, for starters and not surprisingly, a love/hate relationship. Why love? Because since the day I first tried Anna's Taqueria I was addicted to her Super Steak Burrito with guac and hot sauce. I also was attracted to how fast the team behind the line wrapped those suckers. Most of them didn't smile a whole lot, though I do remember Felipe (yes, that Felipe!) would remember customers in the early days and was always a positive force in one of the two restaurants open at the time (around 1996). I will also note that the food was so good I didn't care if they were nice to me… I had to have that Super Steak Burrito.
As an aspiring 26-year old entrepreneur in my 2ndyear at business school, contemplating opening a "wrap" joint myself in Boston, I knew I had found what would become a staple in my diet when I did finally move to Boston. But I also knew that I was in love with a competitor. And little did I know how many dozens of comparisons, mostly painful, would be made between Anna's and The Wrap (which didn't become Boloco until 2005). That's where the "hate" part of the equation came in, if you can really call it that.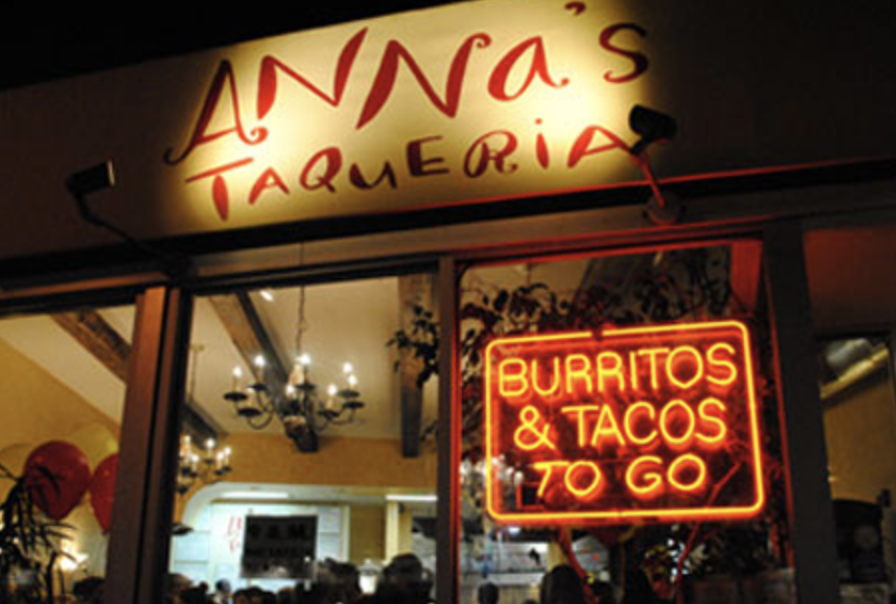 In late 1998, we had 3 locations and one of them was failing horribly (Cleveland Circle). It was bringing us to our knees. I finally reached out to Anna's owner, Mike Kamio, for advice. It took some time, but we finally met in March 1999 at his Harvard Street location, only a block from where our "Corporate HQ" and my apartment (they were the same) were located on Comm Ave in Allston.
I took notes on the meeting which I had forgotten about until I searched a few minutes ago – I've posted them below. The key takeaway in my mind since that meeting was a very good listener, and a man deeply committed to the basics. I would summarize the meeting for years later saying, "after listening to our challenges and our philosophy, Mike just told me to keep doing what I was doing… things would work out." He was right. It wasn't easy, and the mostly self-inflicted bumps along the road were brutal at times, but through it all focusing on the basics was the grounding mechanism that could keep fragile businesses like Anna's and Boloco alive over sustainable periods of time. An article in 2000 discussed both of our businesses at the time, both of us focused on the basics.
Mike and I met every few years after that, always my reaching out to him, not vice versa. In every conversation we had he was busy… with Anna's sure, but family always entered the conversation. Only when I had my own family did those sentiments ever start to make sense to me. "How could you not be fully dedicated to Anna's?!" I would hear myself think.
One time in 2006, he wrote:
"Thanks, but been pretty busy lately with the family and Anna's ……….. Don't really have time to slow down ………… Hope you are well!!"
That was code for… nope, no meeting this year. I understood.
The world of Boloco changed dramatically in 2007 when we raised $10 million in private equity growth capital. We grew to 22 locations in the following 6 years spreading from Maryland and DC to Burlington, VT. Through it all, I was almost desperately seeking real purpose and meaning behind everything we did. Livable wages, benefits, environment, support of local non-profits, I wanted all of it to be part of the Boloco ethos.
Anna's, on the other hand, seemed to have stalled by that time, opening a location at MIT and MGH, the latter taking years to permit and construct, as I recall. When Mike and I caught up once, I know that was a source of significant stress for him. I looked at Anna's as a local favorite run by a silent founder who avoided the spotlight at nearly all costs. I still indulged in my Super Steak Burrito once in a while.
When I suddenly left Boloco in 2013, I didn't know I'd have an opportunity to buy it back from our Private Equity owners two short years later. But I did.
One of the benefits of a hiatus like that is that you have a chance to gain clarity on many, many things. Three meditation retreats and adding a regular yoga practice to my life helped on this front immensely.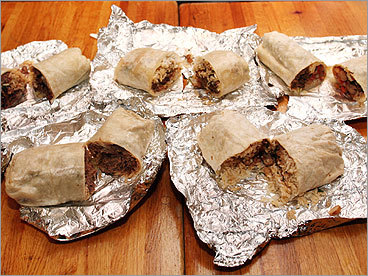 One realization I had is that despite every best effort, and even the winning of multiple blind taste tests (here's one!), in 18 years Boloco's product didn't have the same "irrational" following that a few others had. One of those was Anna's.
When I bought the company back in 2015, I felt I had unfinished work to do in the tense arenas of income inequality, the wealth gap, and worker voice in the workplace. Boloco, under my control with these focal points, I thought, was my best shot at accomplishing important initiatives within all of them. The problem? Sales were not growing anymore, we had a few loser restaurants, and our Boloco team was suffering from "leadership whiplash" over the past few years. I felt I could remedy the latter over time, but without a truly cult-following product, I was worried that growing sales and saving poor performing locations were beyond my capabilities.
"Cult-following product"… I couldn't get Anna's out of my mind. What if we joined forces in a creative way that could connect Anna's award-winning product, Boloco's culture and commitment to environmental improvement and social justice, and the marketing prowess of the one person I knew who held both companies in high esteem for just those reasons, Tom O'Keefe (@BostonTweet).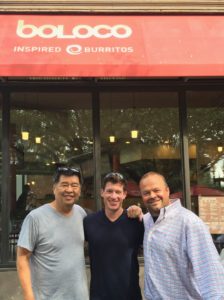 Less than 3 months after I repurchased Boloco, Tom reached out to Mike and his wife Betsy to set up the initial meeting, and it was encouraging. Mike was celebrating 20 years and he was clearly tired. But he also knew what he had, and wasn't willing to give up control to others and have, as he said, "the same thing happen to me as happened to you, John". The hardest part for me was knowing that in this crazy idea, the Boloco brand would need to be jettisoned in favor of Anna's name, and that in order to get Mike and his family the funds they deserved for 20 years of success, as well as to support necessary upgrades and rebranding efforts, and eventually to expand, we would yet again have to go to the coffers of Private Equity. By this time, of course, I knew that not all PE is created equal, and approached only one small Boston-based investor team with monster resources to do it and a mindset that I felt I could trust.
Summer turned to fall and eventually to winter and conversations continued. But Mike was hesitant, and in the end, graciously, passed. Ironically, it was as I exited a Bikram Yoga studio on a blustery winter day in NYC in January 2016 that I took his call and stepped back into the stairway of the building I had just left. I remember hearing his voice and tone and knowing that it was over. I let Tom and the others know.
Mike and I met one more time in 2016 as he prepared to open Anna's locations in the Prudential and in Newton – neither were easy. That said, he was on his own, and really feeling good about it. He had no regrets on passing. I understood.
I, on the other hand, was still deep in turnaround mode at Boloco with the same issues mentioned above. Ultimately, I sold the losers to businesses who were better resourced to turn them into winners, and made official our commitment to using our business as a force for good by applying for and being accepted as a Certified B Corporation and Delaware Benefit Corp. By 2017, the formal turnaround was complete and sales have been growing, but truthfully we are still trying to crack the cult-following code that Mike figured out way back in the late 90's.
In losing Mike, we lose a man first and foremost dedicated to his family and to the people he worked with. A man who sweated the details, the small stuff, himself having come from a prior career where it was all big picture and he had seemingly had enough of that. A man who knew he had something special early on and protected it in a way that didn't suffocate it and allowed what was extraordinary about Anna's to breathe and flourish even as challenges in the outside world persisted. A man who ignored the fads and stuck to what worked for him, his family, and for his customers. A man who met with his competitors and gave them heartfelt advice. A man who built an institution that while far from perfect came to be part of the fabric of Boston and literally defined the experience of studying or living in Boston for countless thousands who have since moved on.
I will miss knowing Mike is there to offer counsel and the image of both of us with our heads in our hands at one of our restaurants laughing (him) while nearly crying (that was me, not him) at the shit-you-can't-make-up scenarios we shared in common. Most importantly, my heartfelt sympathies to his wife Betsy and their children. While many others will surely want to share their stories about Mike Kamio, I hope mine here will add to the legacy of a father and entrepreneur gone too soon who shared his generous spirit even with someone like me – a competitor, no less – when he had absolutely nothing to gain by doing so. RIP Mike, and thank you.
PS. From his obituary, in lieu of flowers, please consider a donation to The Southern Poverty Law Center, Casa Myrna in Boston, the Japanese American Museum in Los Angeles, or the charity of your choice. To share a memory or to offer condolences to Mike's family, please visit: gfdoherty.com.
---