"Power of the People"
In 2016, I joined a very special group of founders and CEOs called the Tugboat Institute. Earlier this year they interviewed me about using purpose as our key turnaround strategy at Boloco. The original article is published here.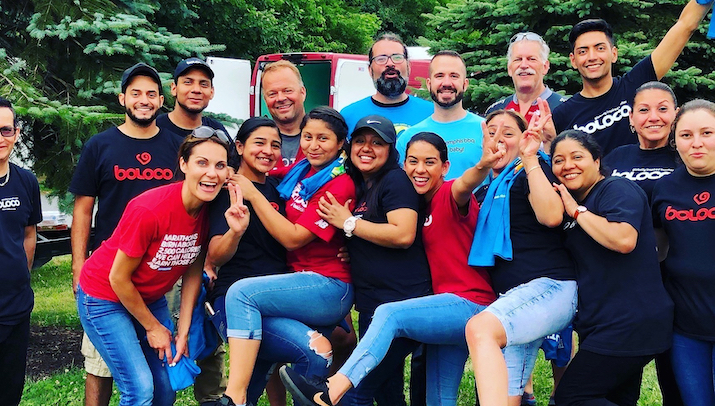 In October 2013, I resigned from Boloco, the fast-casual restaurant chain I had founded in 1997 (originally called The Wrap), as a result of a philosophical standoff between myself and the private equity group that owned the majority of the business at the time.
Though I stepped away, I never lost my love for the brand, the people, and the mission of Boloco. So, In June 2015, I bought the business back. It was in near bankruptcy at that point, and I knew that stepping back in would mean fully committing to an aggressive turnaround strategy. I also knew that I wanted that turnaround to be built from a foundation that would support our mission: to positively impact and transform the lives and futures of our people through bold and inspired food and practices. To honor that commitment, notwithstanding our fragile balance sheet at the time, we became a Delaware Benefit Corporation and within a year received approval as a Certified B Corporation.
It was fortuitous timing that I was soon introduced to Tugboat Institute and the Evergreen path. As I learned more about the Evergreen 7Ps, the ideas resonated deeply, and I came to see that these principles could further serve me and my team as an ideal framework—not just for an "Evergreen turnaround," but, more important, a return to pragmatic growth. We would rebuild our foundation and chart a course forward toward a sustainable future.
Since 2015, we've been fully engaged in the work of that turnaround. Each of the Evergreen 7Ps have served as a guidepost in that time, shaping the business we are today—as has our commitment to our B Corp status. But, throughout, one central focus has driven our motivation: People First.
My priority when I bought the business back—and the biggest challenge right off the bat—was to redirect as much money as possible into the hands of our people. More than anything else, I wanted to be able to sleep at night knowing we were fulfilling our promise to our employees. At the same time, we had to figure out a way to be more profitable.
At the time, we had a beautiful suite of offices overlooking the Boston Common, and for years it had been filled with a corporate team charged with a range of operational and strategic functions. I looked around in those early months and knew that if we were going to reduce overhead to be able to invest in the livelihoods and meaningful development of the people on the front lines of service, we had to restructure. Over that first year, I was able to slowly reduce the size of the corporate office, through attrition, for the most part, and then finally close it.
We didn't rehire anybody. Instead, the general managers of our restaurants became what is today our senior management team. In fact, our former Director of Catering is now President, and a former GM is now COO. Nobody sits in an office—the senior managers are in the restaurants every day personally delivering high levels of personal service to our guests and team members. Collectively, they are knowledgeable about every aspect of the business they are helping to sustain and grow. All former corporate functions have been divvied up among these managers, and, as a result, we're able to pay them and their team members more. The result: today, we're a $12 million company that has no corporate headquarters, where everybody is focused on supporting the team that serves our guests or is serving guests themselves.
As general managers became the core of our senior management team, we also returned to open book management. When we originally founded the company, I had been adamant that all the general managers produce their own P&L's, learning Excel along the way, and that they report the numbers directly to me. But as we grew and had more capital, we had invested in systems and technology that took the managers out of the loop—reports were automated, but they weren't digesting the numbers as they had been. I knew, when I returned to the business, that I had to reconnect our managers in a tactile, visceral way to those numbers again so that they could feel empowered to make changes and fully invest in the turnaround. I did that—and again reduced overhead—by ending contracts with the financial technology companies that had taken the place of the managers' role in reporting. Today, the general managers have full control of the numbers, and they report their numbers every week to the entire company, so we all see exactly where we are at the same time. The best part: they fight to improve those numbers.
We also had to sell or close a number of locations as part of the turnaround. It was an incredibly difficult choice, but the balance sheet was upside down, and we needed to monetize some of our best locations sooner than later. We had a ton of debt that we inherited (over $14 million in liabilities), and the challenge was too big to overcome without downsizing. Luckily, we had very good buyers of most of those restaurant leases, so we decided to do it. As part of one of the more important transactions, all of the affected Boloco employees in five locations were given an opportunity to interview and take a job with the new owner, which was actually a company I had co-founded and since sold. If they weren't hired by that company, we pledged to bring them on in some way at Boloco, allowing us to avoid any layoffs.
The restructuring effort, reduced overhead, and strategic (though at the time I'll admit it often felt desperate!) downsizing were all motivated by the goal of positively impacting our employees' lives while continuing to delight our guests with high quality and great value. And, together, these essential steps in our Evergreen turnaround helped us offer something else to our people across the board: a livable wage. Paying a livable wage had been our goal for a long time, and we've achieved that finally, as an average. The minimum hourly wage paid at Boloco today is $13, and the average is finally over $15, representing a 35 to 40 percent increase versus what they were paid when I bought the business back four years ago.
So how is Boloco doing today? I can't say that we're wildly profitable, but we're healthy these days, with positive EBITDA and Net Income across the board. We have nine restaurants, mostly in Boston, where we are now systematically refreshing and updating the locations as we earn the right (i.e. the money) to do so. Our average manager has been with us 11 years, our average team member for four. We're growing organically again, and we are more than ever dedicated to the Evergreen 7Ps that guided the turnaround from the beginning. The after-effect of putting these principles to work in operations continues to be higher sales and higher profits, along with extraordinarily low employee turnover. But I believe what has really allowed us to round the bend and believe in a sustainable future for the business has been our relentless belief in the Purpose of serving our people. People First continues to be priority one.
John Pepper is the Chairman and Co-founder of Boloco.