Dig Inn… You might want to stop digging that hole, friend…
I got pretty close to sending this out by email from the main Boloco account today. Of course, that would have been suicide.
But on my private little blog that nobody reads? No harm can be done, so let's have some fun!
—–
You know what Dig Inn? We like your food too. We like your fancy build-outs. And we wish we had all the money you guys have to clobber the sh*t out of aging businesses like Boloco. We get jealous sometimes, it's true.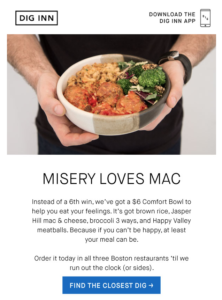 But this email you just sent?
"Misery loves Mac"?!
"Instead of a 6th win, we've got a $6 Comfort Bowl to help you eat your feelings."
Are you f'ing kidding??!
You are from New York.
You don't like our teams. You don't know New England, and you certainly don't want to mess with us this way – not on this day. No New York City-based anything should be so bold as to be condescending and patronizing on a day like today. We know the market research you have done, all of the complex data analytics, the target customer work you did before entering Boston…  but somehow you missed big here, fancy boys.
We are proud of our Patriots, proud of Boston, proud of the grit it requires to live here, and a $6 bowl is anything but comforting on a day like today.
You know what's comforting on a day like today in New England?
FREE BURRITOS FROM BOLOCO. 
There we have it.