The Founder of Panera Bread: 'I Wish I'd Fired More People – Sooner"
Boloco Team,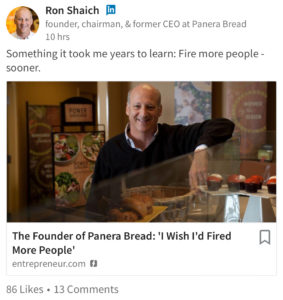 Here is a "titan of the restaurant industry" telling us:  "fire more people- sooner"
I prefer: "help more people thrive – sooner".
It's a harder path. Just this year had Ron Shaich been on our board we would have fired many. No more chances, they would say. You don't fit. You aren't good enough. You aren't
Worthee
(get it? 😂)
All of us with big hearts and good intentions and strong work ethic are worthy.  Firing is a last resort. Most of our time should be spent coaching, helping, contributing. And yes, when ready, helping each other transition to better opportunities outside of Boloco.
To be clear, Ron does share some points that I agree with… for instance:
"Eventually I learned that servant leadership isn't about being nice at all costs. It's about being helpful at all costs. A leader should be as brutally honest as possible — and you can do this in a kind and loving way. Let the chips fall where they may, and remember: Honesty is helpful. When you tell someone why they're doing a bad job, you're transferring the responsibility. Maybe they improve. Maybe they leave. Whatever the outcome, they own it."
And then there's this, and I'm guilty of still believing what he does not:
"Some leaders think, Oh, I'm going to train the employee to become this; we're going to develop them into that. It just doesn't happen. People are who they are. A leader's responsibility is not to make a person succeed." 
I want to keep believing. Don't you!?
Boloco can be the exception to the norm.  In the end Ron and some senior executives and Wall Street investors were the big winners. Not the GMs, not the team members. So maybe he's right. Firing people allowed the company to thrive. But it didn't benefit the people who stayed or left. Just those who were already benefiting. In my book, that's not thriving… that's a continuation of the widening income gap that we see in our society.
We can do this well and do it differently. We don't need to be big to be successful. We just need to be great in the things we choose to do.