Allergy Scare
There are so many things that can, and do, go wrong on a given day in the restaurant business. Thankfully, most of them can be cured quickly.
Once in a while, restaurants commit the worst of all things… they hurt people. Hurting people is not easily curable. We've all read countless stories of food poisoning wreaking havoc on thousands of people. I read not long ago that over 75 million people in the US suffer from some form of food borne illness each year, many in their own homes. In 2015, various strands of the Noro virus and Ecoli put our biggest nemesis, Chipotle, on their heels for years (well, their stock price more than anything, as it turns out). There were whispers around Boston and New England that this unfortunate series of events, including the sickening of the entire Boston College basketball team, would be helpful for Boloco. But, as it turned out, even friends of mine months later would ask me "hey, how did everything work out with that Ecoli issue?", to which I'd respond "that wasn't Boloco, that was chipotle". People just assumed "all of us" were part of it… burrito chains, Mexican food, whatever. Our Cleveland Circle location, only 2 doors down from one of the Chipotles that had to be closed for weeks, shut down permanently in the spring of 2016. Food poisoning is healthy for nobody, even though we had never had such outbreaks happen in our restaurants since our founding in 1997. I'm grateful that we've had a minuscule number of individual incidents in our 20+ years.
The other night, however, Boloco did hurt someone. Most painfully, it was an 8-year old girl with a peanut allergy. Using our mobile app, her parents had ordered her a "Goloco" (build your own) and in the Notes section had clearly indicated PEANUT ALLERGY. The person making burritos that evening, likely rushing, added peanut sauce instead of omitting it. Later, when the little girl had had a few bites and asked what the brown stuff was, her dad, Aaron, took a bite and knew trouble was brewing. They whisked out their epi-pen and went straight to the ER. Thankfully, after a tense few hours, the little girl is ok – and now they know that the peanut allergy diagnosed when she was 2 is real, and exactly what happens when she consumes peanuts.
The good news? She's ok. The bad news? That this happened in the first place.
To make matters worse, the little girl's Dad called the restaurant from the ER to alert them to what was happening. Our manager in charge was, in Aaron's words, apologetic, but also said there was "nothing" he could do. He offered to refund them their money (something we do without hesitation on the smallest of concerns). But for a hospitalization of a child after having visited one of our restaurants and consumed something from our menu? Money back is not what a concerned parent is worried about while still in the ER. Worse, the manager on duty never alerted senior management that this was happening, leading the father to do what many of us would justifiably choose to do in such a situation… take to Twitter: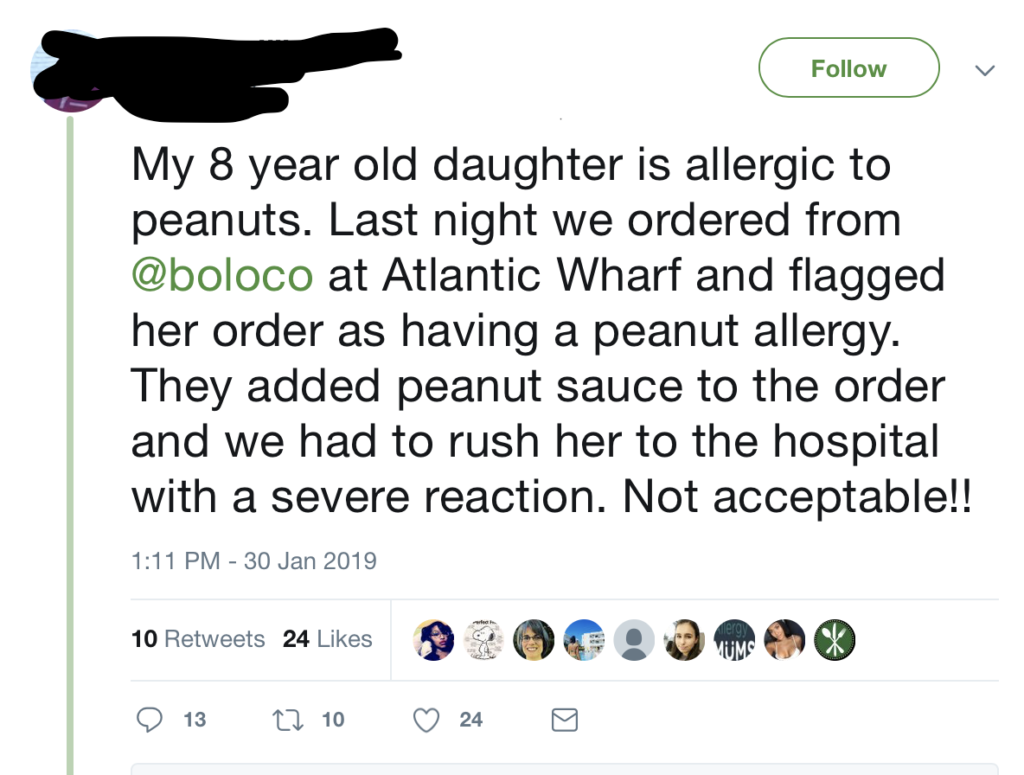 I was boarding a plane from Seattle to Boston when I got wind of this. My stomach sunk, not knowing if the daughter was ok, and not knowing if we had been able to get in touch to help and do whatever we could. I found Aaron on Linked In and wrote him a message from the air and promised him I would call as soon as I landed. When I finally did, Matt Taylor, our COO, had already connected with the dad and by then we knew that at the very least the child was safe. Aaron and I connected earlier today and had a long talk about the severity of the situation, the trauma it caused his family, and the trust that had been broken for him as he had been a loyal guest since the days when we were called "The Wrap"…. as Warren Buffett says, it can take 20 years to build a reputation, and 5 minutes to destroy it. He also mentioned that he felt he and his family had become complacent – they trusted Boloco 100%, and he even started to take some blame for that. I appreciated that sentiment but obviously the fault is all ours, not theirs. When they do return, they will watch their food being made, he said, as opposed to hoping that it is done right digitally. Too much at stake to take any chances.
The hard work for our team begins now. Sadly, it often takes a near disaster, or an actual disaster, to effect real change in teams and groups. This is true in our communities, our governments, and of course businesses. All 150 Boloco team members have already been versed on exactly what happened, and we will follow up next week on improved practices and communication to ensure that something like this won't happen again. And yet, as I say that, I also know it's impossible for us to guarantee that from this point forward no mistakes will ever be made. Mistakes are made. The key is that when lives are on the line, and in the food business lives are always on the line, that all steps are taken to reduce the risk of a catastrophic mistake to as close to zero as possible. That's the best any of us can do, and that is what we are committed to doing.
PS. Even though they didn't want or ask for this, when they do head back to Boloco, it will be our treat for the foreseeable future. It's the very least we can do. 🙏🏼