"You Can Not Be Too Cynical…"
I disagree.
This tweet came across my screen earlier related to the new tax bill that just passed. But honestly, I think you can be too cynical and I think we, as a society, are often way too cynical about most everything we don't agree with.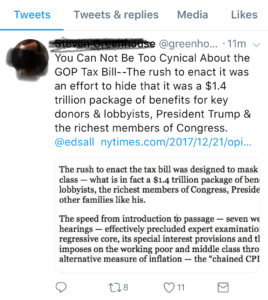 That said, we don't have to be happy. As relates to today's taxes and the economy, the gap between the haves and have nots is not closing. And unfortunately, many say it will now be far worse. But all hope is not lost – this is not the apocalypse. Just as Republicans had to stand by during the Obama years and watch Democrats pass laws that drove them to near insanity, now Democrats must do the same.
So… we have some new guardrails for a year or two… or more. So why not accept those guardrails as law (because they will be just that), and commit to work within them to do what's right for the people and communities who need the most help. The reality is that SO much good can still be done within the former, existing, and future guardrails. And, of course, those in the position to do so must and will work towards improved bills and laws in '18, '20 and beyond. Why keep screaming and blaming and complaining, and generally behaving as if all is lost, under the guise of supposedly "responsible resisting"?
As individuals and as businesses, we have the ability to take action every day and make a difference. We can choose to be kind to each other, listen to each others' differences, give more and be ok receiving less in return.
And let's realize that too much skepticism today will lead to an equal or even greater amount of skepticism from one's opponents when the tables turn. And the tables always do turn. Someone, at some point, has to take the high road.
Yes, we can definitely choose to increase our level of cynicism perpetually, or we could instead choose to give more, listen more, and work together for better solutions. Especially when things aren't necessarily going our way today, there is never a better time to do even more of the things that laws and bills haven't been able to. There is no magic wand to wave, just the daily efforts of positive progress – less cynicism from all sides, more determination and hope.