Springfield Village Pizza and Raising the Wage
I needed gas, I had entered town on fumes. As the vacant storefronts disappeared into my rearview mirror, I hoped the fueling stations would still be open. Google Maps said there were a few nearby whose names I didn't recognize… Mobil was a little further away but I trust that name. At a Mobil, I know I can insert any credit card into the slot and get gas with no interaction, no hassle. I min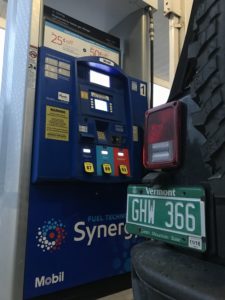 dlessly headed that way. As I pumped, I saw the gleam of the golden arches off to my right. OK, I heard my one self tell my other self, I'll go there next. Get yet another coffee, and despite my efforts to be healthy, I'll grab a Big Mac while I'm at it (I can work the 560 calories off with no problem, I reminded myself). I kept squeezing the fuel trigger passing through $20, $30, $40.
Then I remembered the little place I had noticed across from the Springfield Town Library. Apizza shop. Here I had just left a meeting of mostly town locals debating the implications of minimum wage increases, impact on (and historical context of) local industry, discussion of "real" jobs, and now I was about to unconsciously support the antithesis of all of it. I knew I couldn't do it. I had to return to the pizza shop. And that's where I am now as I write.
First, I won't say a negative thing about this dive. It's called Springfield Village Pizza… and everything is "fine". It's actually not… but I'm not going to complain, or get upset, or even think another thought about it. The owner, who I have not yet spoken to, was scolding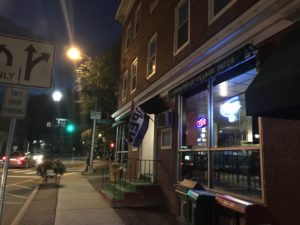 one of his employees about something related to a customer's phone number. He was almost, not quite, in the guy's face. I look around and I see extension chords everywhere, protruding from behind the ovens, the counters, and even the pictures. There's a make-shift AC on the wall, and then a screen door that slams shut when you enter, making it sound like every customer who leaves is pissed. A few attempts at some flowers, the cheapest furniture available, though it was new so it wasn't bad. Like I said… I would never say anything negative about this place.
While I wait for my pizza, I am digesting the meeting that I just attended across the street – "Raising the Minimum Wage" sponsored by the VT Democratic Party and well attended I thought. Nobody in the room had bad intentions… everyone concerned about the problem at hand. The income gap. The have nots versus the haves. The atmosphere was charged, I noticed… and it was contagious. When I finally spoke towards the end of the meeting, I felt that same energy inside of me. I was eager to speak, but knowing I had to remain calm or the message would be lost. I wanted to say so much, but knew I couldn't… especially after the guy in the front row truly went off before essentially stomping out. Even with my purposeful restraint, I probably said too much.
The politicians and non-profit experts on the panel made their statements… there was a lot of complexity in what they said. Some substance, but no true call to action. About an hour in I felt a sense of hopelessness for those they serve… no solutions were forthcoming. And yet, I also noted I wasn't passing judgement against them. The system of government is a long, slow, endless maze, and it seems nobody – literally – knows how to find or pull the levers of change. A lot of talk, so little action. OK, perhaps there is action, but is it bold and decisive? Does it put certain "entitlements" at risk for the sake of a much, much better future for more people in the Town of Springfield? For all the other towns like this in Vermont? Across the US? I wondered on a few occasions why we were all there. Someone spoke up and wondered the same thing aloud. People didn't appreciate the comment. I was glad I kept it to myself.
I listened. And listened. A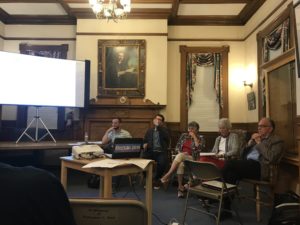 nd listened some more. And heard mostly what I've heard before… for too many years. All sounds fine. But really a whole lot of nothing too. Time is money. And in this town, where I've never seen so many Main Street commercial spaces with For Rent signs on them, time is life. Time is lost futures. Further loss of hope. Life here isn't getting better in any discernible way… Springfield, not surprisingly, is not known as a population with a lot of "hope", the attending School Board member said.
Here's what I think. Here's what I sort of said, but not exactly. And now I think I should.
I think we need to rip the f'ing bandage off and raisethe damn wage already. It will hurt like a mother fucker. Just like we brace before an airplane crashes, or a hurricane hits (which is happening in Florida very, very soon) we better be ready for this one. Stop talking about all of the other things… benefits cliffs, tax credits, business pushback, history of this and that, whatever. We made this bed over many decades. Deal with the other shit once the wage is higher. Raising the wage will force us to finally deal with shit, make thoughtful but fast decisions, and at least around here, things won't get worse than they are.
People don't want to say it, but some businesses will fail – and fail fast. More than people realize. Within weeks payrolls won't be met, rents won't be paid, storefronts will go dark. But… not forever, and maybe not even for that long.
And certainly not all businesses.
Good businesses will feel the pinch, but they will survive. And new standards will need to be met. Prices to consumers – many of whom will have a little more spending money – will likely go up. Small business owners will work more hours for the same or less pay. They will not be happy, and they will be justified in that unhappiness. In many cases they would be better off as an employee than as an owner. The American Dream has always required hard work… but today the hardest workers don't have much hope of living that same dream. With higher wages, they will.
It won't be perfect, far from it. Unemployment for a time may rise. Some who had $8 or $10/hour jobs will not be hired at $15. Machines and automation will become more attractive. But at some point, we will figure it out and start training more people than ever before to find new jobs that work. Many (not all) of those who see the abyss will find a new side of themselves, a new strength, and learn about their God-given resilience. New levels of self-reliance will emerge. This is what it's going to take.
And all the while, those with jobs will be making a living… every person, no exceptions. Every job will be a "good" job. It will pay a living wage.
Exceptions, as I've shared for years, should be considered carefully. If you are 16 and your parents want you to go get a job, you shouldn't necessarily (at least by law) make the same as a full-time adult is trying to build a future. A part-time teenage ice cream scooper is often looking for some spending money, and already has food on the table, a comfortable bed, and access to further education. In Australia, the minimum wage for a 16-year old is a fraction of that for a 21-year old. It in increases quickly with each passing year after 16.
I took a minute to interrupt the owner of the Springfield Village Pizza shop and ask what would happen if he was forced to pay everyone on his staff $15 per hour. He was a bit annoyed and asked me who I was and what was my business – his strong accent probably made him seem more irritated than he was. I told him about the meeting and about my business. With a high level of confidence, not quite arrogance, he said to me "oh yeah, we would be fine. If I have to pay $15 per hour, that's what I do. We will be fine. Maybe prices have to go up a bit, ok?" He went back to watching the soccer game – I couldn't tell who was playing, and I never figured out where the owner was from.
As hard as it will be on some, and as naïve as it may sound, until we ra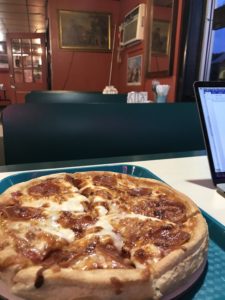 ise the minimum wage above livable wage, the struggle will continue and it will be the same unwinnable struggle we face now. At least when we shift the playing field, it will be a new set of struggles that have a chance of moving us more than incrementally forward, even if there is risk of a step or two backwards in the process.
My final thought? How about I open a Boloco or similar in downtown Springfield. Form a non-profit entity that owns and invests in it, and make it a business for the people and by the people of Springfield. Provide basic training, insist on certain standards, but mostly make it an experiment on livable wages for all and honestly just see what happens. If it fails, it fails. If it succeeds, then we learn something and try it again somewhere else. Just a thought. We have to start somewhere.
PS. The pizza was damn good.