"I'm John and I'm a racist."
No, I haven't been drinking. In fact, I haven't had a drink since December 3, 2019… which means that the other day I just celebrated 9 months of sobriety. Since I don't drink anymore (well, at least for today) a significant part of my being translates that into "I'm not an alcoholic." Which, of course, would mean I can drink again. Yay! And yet, when I attend AA meetings which I do a few times a week, I introduce myself with "Hi, I'm John, I'm an alcoholic." I still frequently question whether I'm really an alcoholic. I've gone days and weeks without a drink over the years. I've mostly stayed out of trouble (except when I caused, well, big trouble) and I like to think I am still a good person (as long as I'm not drinking, of course!)
So what does alcoholism have to do with racism?? Let me see if I can connect my thoughts here.
I haven't used the "N" word since I was in high school – yes, growing up in Cincinnati in the 80's it was used here and there and I wasn't immune. But (says the typical white guy, in this case me) it was "just joking around." I had and still have black friends and we all employed what would be considered racist language today (there I go again!). Some of my best friends growing up were black – RIP Rod ☹️.
And, to top things off, I grew up in a household that openly and vocally valued and pressed for diversity in the neighborhood and the workplace. How could I possibly be a racist, I've asked myself many times over the past months. Oh, and also, my first real boss at J&J was black, and he was the man – as in THE MAN. I loved that guy – JoJo Walters. He taught me so much – about sales, selling the most obscure features to our docs and nurses in the OR, shining my shoes, keeping my car clean, and most importantly always believing in myself. I've hired black, transgender employees, one who practiced witchcraft which I still don't fully comprehend, but celebrated their achievements like I do any of their white, straight counterparts. So I'm not racist, right?
Wrong. I had it so wrong.
When I first heard myself utter the words "Hi, I'm John and I'm an alcoholic", I felt shame, remorse, defensive, and self-incriminating. I desperately wanted not to be an alcoholic. I wanted to be a good person who could drink responsibly 100% of the time. In short order, perhaps a few weeks after attending my first AA meeting, I learned that declaring myself an alcoholic was not the end, but the very, very beginning. The beginning of a new exploration into my mind, my heart, and my soul – searching for a more consistent, stable life that didn't include alcohol. The first step is acknowledging the problem. A problem that is often invisible not only to the drinker, in this case, but even to those closest to him who do (but often don't) behave similarly.
If I can admit to being an alcoholic (while still not fully believing it, but knowing it to be true) I can certainly parlay that into admitting that I'm a racist (while still not fully believing it, but knowing it also to be true).
When I think about it honestly, it's impossible that I am NOT a racist.
By merely being a white participant taking advantage of the visible and invisible advantages bestowed upon me as a white male, from all that I've read and discussed these past few months, I am pushing racism forward without even knowing it. It's only when I acknowledge that racism surrounds me constantly – like the air that we breathe – that I have a chance of acknowledging it and actively working to reverse it. I've heard a lot about anti-racism since June 1, and I suppose if I lose that initial "rage" I felt during the 6-8 weeks following George Floyd's death (which, to be honest, I have lost somewhat) I'll fall back into the natural habit of racism and discrimination without even thinking about it. All of us have to work harder than ever not to let that happen.
So, as a start, just as I do at AA, I will continue to acknowledge that "I'm John, and I am a racist." Doing so will – hopefully – help me develop the new lens and muscles required to take actions that will ultimately be required by millions of us to reverse this stain on our country's past, present, and – if we're not careful – future.
"What else are you going to do besides acknowledge this?" someone close to me asked after reading a draft of this post. "What actions are you going to take?" It almost felt like I was back in the board room with pressure to create and adopt a smart sounding strategy with goals and metrics tied to them to measure success. But the question was a good one, and it made me think.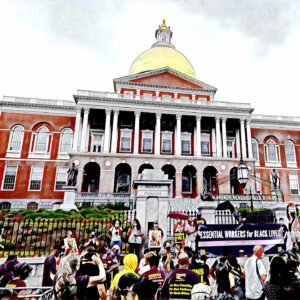 "For now, all I can do is keep showing up. Keep coming, as they say. If racism is all around us, and I am racist, I won't have the right answers or solutions anytime soon." I continued. "But I can keep showing up. Like Team Boloco did at the Massachusetts State House in late July. Like the Boloco team did in June after the riots in Boston caused a team member to speak up about Boloco's own responsibilities related to racism. Like a few dozen white men – many leaders of BCorp companies and BLab itself – have as part of a group called "White Men for Racial Justice". Nothing happens when you don't show up, and in something as complex as racism, there can be no guarantees that every time you show up will feel like progress has been made – like you somehow earned a positive "return" on your time invested. That has to be ok. Less judgment, less concern about checking off boxes to show that "right" action was taken, more just being present, listening, looking for windows to take good action, perhaps even to cause a little good trouble here and there. Maybe if we are just there, more often than we have been, we'll know what to do when the time is right. It may sound like a cop out, but showing up to AA meetings every day without specific goals has worked wonders for millions, and maybe the same can happen for racism. I hope. At least its a good start.
In conclusion, I want to highlight a small but significant event that literally just took place. I googled "I'm a racist" looking for a good image to feature for this post, and the top 3 hits were the exact opposite… "I'm not a racist." Come on, Google.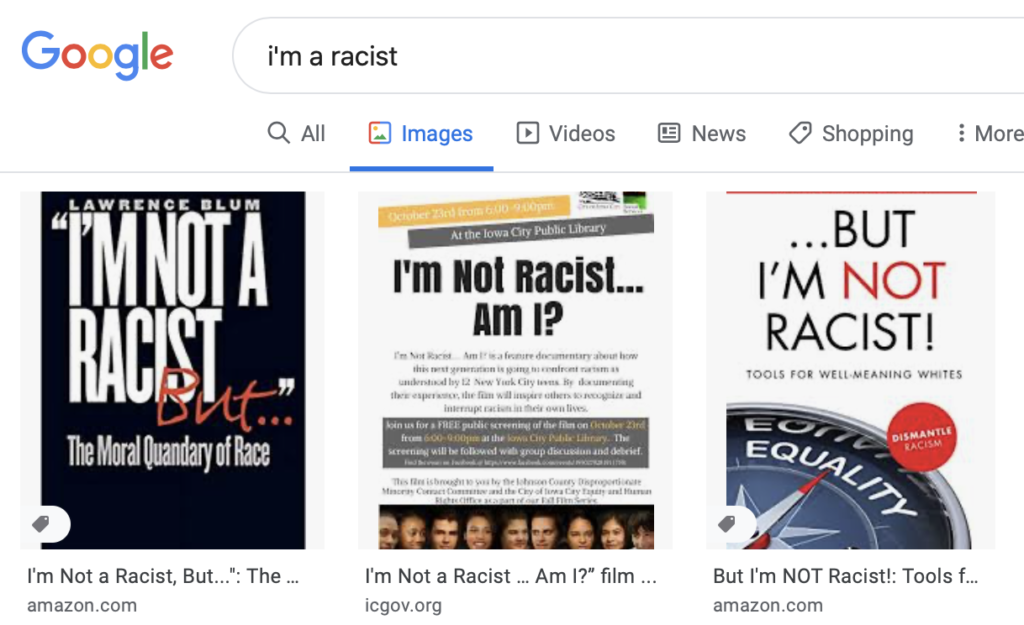 (Note: I feel very uncomfortable publishing this because I feel like I'm likely saying something "wrong" or might get attacked, or something… but I suppose that discomfort is the very best reason to post it. I'm 50 years old, after all… if not now, when?)
Comments and call outs appreciated.
Day 5 🏇🏽