Amtrak Lake Shore: Chicago –> Boston
Amtrak Lake Shore Limited – January 2015
I'm not sure why Amtrak adds the work "limited" to the name of this train line… perhaps if you are stuck in coach in a seat – which actually has quite a lot of space – you feel quite limited.  As for me, sitting up in the front of the train in a so-called "bedroom" car, 21 hours into a 23-hour ride, I feel quite unlimited. No boundaries.  Everything is possible.  It would be hard to convince me otherwise.
I was in Chicago yesterday for two meetings and then to reconnect with a b-school buddy and his family. They just had a new baby… fun to find friends who have bigger age gaps (14, 11, 0) than we do (11,9,1). It was overall a great day.
I booked a one-way on JetBlue very early in the morning using points and having seen that all the flights returning were between $230-$251 on either JetBlue, American, or Southwest. As I often like to do, I decided to see how the day went and keep my options open.
At about 2pm, after the second meeting and while trying to figure out if I would actually head up to Winnetka to visit the Peinados, I had a few minutes and started thinking about life, age, adventure and memories. Ever since leaving Boloco I've been on this quest to hit my fuzzy (ie. not actually written down) mid-40s "bucket list" aggressively and make sure I take advantage of any free time I perceive that I have.  And by that I mean do things that are memorable, as opposed to the same old, same old.
It occurred to me that I've been talking about just getting on a train and working, thinking, experiencing, etc. a lot lately.  And I here I was in Chicago, an Amtrak Hub, with the opportunity to do just that.
After too much internal debate, a lot of it in front of George and Julie and Colt after I had joined them in Winnetka, I fumbled around with my phone searching different options, and getting right to the point of clicking "PURCHASE" on both JetBlue and Amtrak sites multiple times before backing off.
Finally, after I finally reached home and heard Maggie's enthusiasm for my doing the train, I clicked Purchase on the Amtrak site.  For about 3x the amount of money it would have cost to fly home, and for about the same amount it would have been to fly home and get a hotel room in Boston for 2 nights, I ordered up the highest level Amtrak offers.  After a nice dinner, I got on Metra and made my way south towards Chicago OTC and walked over to Union Station on a blustery, 0 degree, snowy evening.

I entered Union Station on the other side of the street, which took me back a few steps in time. It reminded me of Grand Central minus the hustle bustle typically happening at 9pm on a weeknight.  It was a ghost town save for a few homeless on what looked more like antique church pews than train station benches.
At the boarding area there were many signs warning passengers that we were subject to search and proper ID would be needed, but nobody ever checked me for either.  I was last to board.  There were at least two dozen giggly Amish women waiting anxiously to board, and a number of passengers with plastic bags as luggage. While Amtrak coach is roomy compared most first class airline cabins, I don't think any of them were excited about the night ahead.
I was directed to the very "front" of the train. Which sounded great until I realized it was the furthest car on a very, very long train – the temperature was still zero.
As I got onto car #4820 and headed to Cabin B, my oasis for the next 24 hours, there was clearly commotion going on at my final destination.
My introduction to the sleeping car attendant, who reminded me immediately of Mary's step-father in Something about Mary in looks and mannerism, was abrupt.
"Are you in B?  They sold B? Oh man, we got a biiiggg problem", he said, again auditioning for that father role in Something about Mary.  I liked him immediately, even as he was clearly about to delivery me some bad news.  It occurred to me I could still hop off the train, get a nice hotel, and fly back first thing in the morning with no sweat.
Anthony pushed me back towards the very front and started telling me about the "handicapped passengers" who were now in my cabin, and that they had to be there because one of the beds – the bottom, big bed, of course – was broken.  There were two of them, only one of me.  I walked into what looked like a not yet cleaned 1980's era hospital room in which the previous patient had just left.  That was my first impression, and I wasn't impressed.
Anthony proudly showed me that my bathroom was humungous, and it was. He had to run and left me for a few minutes on my own to check things out.  The Lake Shore Limited began to pull out right around that moment.  I sat down on the broken pull-out couch/bed – which was perfectly fine as a couch – and pulled out the desk upon which I would be working for the next 24 hours.  At best, it measured 12 inches by 12 inches and had a slip border on it that required me to put my laptop diagonally on it.  The outlet was by the door, requiring me to string my power chord mid-air across the cabin.  The floor I kept noticing was filthy.  And the sheets and skimpy blanket above me looked like a bed bug magnet. I gazed out the window as the platform turned to railroad tracks and any chance of escape faded.
And all I could think about was: I paid $700 for this??  (I could have gotten home to Boston and stayed at the Ritz for less… I actually spent a minute checking).
Frustrated and feeling an escalation, I googled Amtrak and called the main number and got to Customer Service.  The stoic voice on the other end worried me considerably. I told her what had happened, emphasizing the desk was much, much smaller than normal and it simply couldn't work for what I needed to get done while on board. She listened and then did what I hate so much. "I'm sorry sir, there's nothing I can do for you. You will need to call Customer Relations in the morning and seek compensation from them".  I hadn't even asked for compensation, but I appreciated it might be an option.  Confused about her not being able to do anything for me, I clarified that I had correctly called Customer Service, and she confirme
d but said that there was again nothing she could do – adding "sir" once again and emphasizing the word "Relations".  She also told me that once the train left the station there was typically little that could be done.  I thought about how awesome it would have been to jump off the train in protest right as I found out there might be an issue, and standing on the platform in the bitter cold just so I could abide by this Amtrak policy and then get on the phone and fight – or worse, wait until morning to be able to do anything. I listened for another minute or so, thanked her for not helping me, and ended the call.
I hunted down Anthony and he came back at me with that smile from the movie and told me he'd help me once he was done with the disabled couple.
Walking back to "H", I noticed there was nobody yet in "A", which was the same as my reserved room, "B". I wanted to see what I was missing. I knocked to make sure nobody was hiding, and crawled into this tight space and went right for the desk.  I pulled it out, and sure enough… it was the same size as the one in "H".  I had been mistaken… my desk was the standard size.  One less slight, I thought, and pathetically felt better.  Then I realized that this little room was so crowded that even for one person it felt cramped… my "H" on the other hand had enough room to do a full yoga practice, take a full shower comfortably, and the windows seemed ginormous.
I slinked back to my "H" cabin, feeling a little bit bad about complaining, but quietly taking in the fact that it appeared I had been upgraded to the "suite".  Yes, it was still dirty, but so was the whole damn train due to the winter weather, so in fact this was as good as it was going to get.
I began to relax.  And relax.  And the train gained speed. I sat mesmerized by the snowy scenery passing me by quite rapidly at this point.  I turned out the lights in the cabin which helped the ambiance drastically.   Now all I heard was the clackety-clack, clackety-clack of the tracks and the surprisingly soothing horn of the engine directly in front of me.  I realized that my early judgment, while accurate in many ways, stood unnecessarily in the way of my happiness for the next 24 hours.  This is exactly what I thought I wanted.  And here I was complaining about it.  The voice inside me quieted.  I decided to mediate. I did, until I dozed off, then meditated again, dozed, etc.  I debated going to the dining car.  I declined the self-invitation.
I crawled up in to the cramped upper berth and set myself up with a sleeping pill, some Vicks to calm the slight throat tickle, and attempted to read.  With the exception of a vague memory in Toledo the next thing I knew I was rising to the sound of the tracks, the horn, and a misty morning. Google maps confirmed we were just east of Cleveland.  I had slept like a baby for at least 6 hours, maybe 7.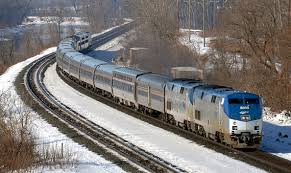 The morning was super relaxing.  An attractive shade of grey passed by my picture window as the wheels turned on the rails over and over again.  With the exception of just south of Buffalo, where there was a foot or so of snow on the ground, the view was dominated a light snow cover giving it a serene wintery scene as I worked away on my laptop.  I stopped in the café car and got a cup of black coffee and a Jimmy Dean breakfast sandwich, opting to skip the social dining car yet again (I had skipped dinner the night before too in favor of sleep).
I focused on thinking. I meditated.  I worked on EEapp and pushed the business plan forward.  I made some calls and took a little extra time on each instead of being pressed to doing whatever was next.  For some reason the people on the other end of the line took the extra time too.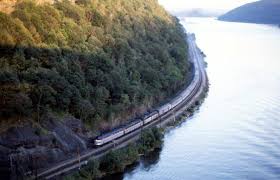 I had lunch in the Dining Car somewhere around Syracuse and met a dentist from Chicago traveling to Boston for a conference.  The "roomettes" are small, he said… too small.  I was reminded how lucky I was to have a full bedroom… and a full bathroom. I was the only one in the Dining Car who showered privately and comfortably that morning, or at least that's how it looked.
As dark fell, and we crossed the NY/MA state lines, I knew one thing was left to make the trip complete. I put on some appropriate music and did a 20 minute Yoga session right there in my room.  Balancing was a bit more difficult, and when I hopped to the front of my "mat" – which were three Amtrak-issue white towels – I had to be careful that the train wasn't about to lurch in that same direction which would have tossed me right into the very sturdy looking picture window.  I completed my practice with 15 push ups, 25 sit ups (New Years resolutions thanks to Marianne Doyle), a 10-minute Shavasana, and then another 30-minute meditation session.
I thanked Anthony with what was apparently a generous tip based on his reaction, thanked the café car attendant and the conductor, and deboarded at South Station just after 9:30pm.
Looking back, its incredible that I regretted being on that train more than anything I could imagine for the first 20-30 minutes of the journey. I was choosing to see things in the negative, to assume I couldn't enjoy myself due to a few very superficial concerns.  How wrong I was, and how happy I was that the next 23-24 hours will likely never be forgotten and serve as a reminder to take the route less often chosen, that carries some risk, some discomfort, but ultimately leads to a life full of richer experiences.  JetBlue and a nice hotel room would have been the easy choices… and the 1% choice to be sure… not that my full bedroom wasn't a choice reserved for the 5%, but it allowed me to view the world a little differently, to regain a little perspective, to know my person a little better (since each of us is always evolving, this is important at all stages in life), and to be more motivated than ever to live a different kind of a life, with meaning, with purpose.