LinkedIN Profile
I've decided to move my LinkedIN Profile here. Trying to reduce presence on apps, etc.
————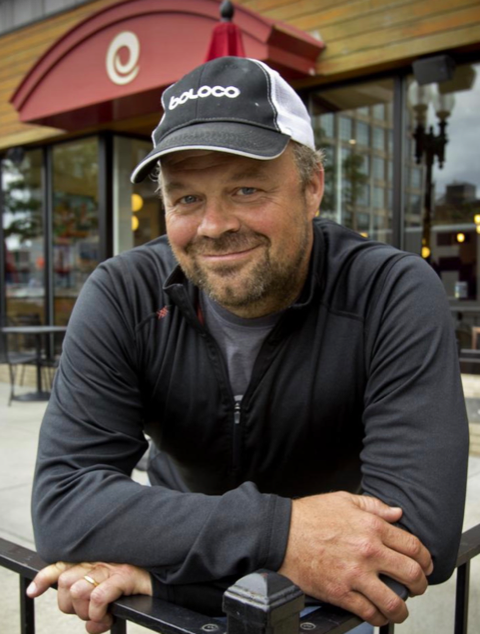 Entrepreneur and Early-Stage Investor.
I've been investing "on the side" since I backed B.Good (www.bgood.com) in 2003 (sold 2017). Today I invest through 211vc (www.211.vc) and have stakes ranging from laughably small to modestly respectable in over 30 consumer, restaurant and restaurant/hospitality tech startups.
I still own and am Chief Worker Advocate and CEO of Boloco (www.boloco.com), a certified B-Corporation which I co-founded with Adam, Jason and Gregg back in 1997 (with a 2-year hiatus/adventure 2013-2015). I was a second-year at Tuck at the time, it was supposed to be a side-project at first. It's been a journey, to say the least. While Boloco is no longer growing and has pulled back from its peak of 22 locations and 500 team members to 6 locations and less than 100, it's been an honor to build such a meaningful business alongside literally thousands of hard working, dedicated team members. By 2024 Boloco will likely be a single unit operating in Hanover, NH. In the meantime, be assured we will make the most of our time remaining. 🙏
I'm passionate about finding, investing in and sometimes even trying to develop (Worthee 😇 – www.worthee.com) technology that aids the restaurant business and most importantly its workers and their futures. I enjoy being part of passionate, energetic, purpose-driven teams a great deal as advisor, board member, and/or angel investor.
I currently serve on the boards of Botanica Seattle and Hone. I'm also on the non-profit boards of the Boston Private Industry Council (Masshire) and Positive Tracks (Boston & Hanover, NH)
I was elected to the Selectboard (city council for New England towns) of Norwich, VT in 2017 and served as Chair from 2018-2020. The challenges of helping to lead small-town government were incredibly eye-opening and I've officially crossed it off the bucket list.
I'm originally from Cincinnati, OH and continue to salivate over 2 cheese coneys and a 3-way from Skyline Chili followed by Black Raspberry Chip Ice Cream from Graeter's.
Co-Founder, CEO & Chief Worker Advocate
Boloco
Feb 1997 – Present
Boston, MA – Founded in 1997. Even a Burrito Aspires. Certified B Corp.
Hone
May 2022 – Present
Boston, Massachusetts
Advisor
Founders Table Restaurant Group ·
May 2014 – Present
Founder & Managing Partner
Jan 2022 – Present
Hanover, New Hampshire
211 is an informal collective of business leaders that invests in purpose-driven start-ups in consumer and technology.

We bring passionate capital as well as decades of mistakes and experience to the arena.

Why 211?

1 degree makes all the difference

Water boils at 212ºF… and yet at 211ºF it's hard to tell what, if anything, is happening.

In business, and in life, its not much different. Challenges increase over varying lengths of time. Problems stack on top of each other. Until one day everything erupts – processes deteriorate, teams fall apart, businesses suffer immense setbacks, and even tempers flare. Often when we reach that boiling point, it's too late to do anything constructive.

At 211VC, our goal is to invest in and support start-up businesses before the challenges reach boiling point. Usually at the very beginning when frustration is what often causes an entrepreneur to endeavor on something new and innovative. We join the team with ultra-patient capital and experience at a time when optimism and cooler heads prevail while experience, past mistakes and wisdom can lead to solid partnerships with determined founders and exciting long-term solutions.

We strive to meet and invest in technology companies and founders that are attempting to:

1) provide meaningful and innovative benefits to the frontline, often hourly, workforce – while also supporting employers who aim to improve the lives of their employees

2) provide innovate tools and capabilities to small businesses – often restaurants – to help them win even against their most formidable, much larger competitors

3) develop a consumer startup or brand – think beverages, food, restaurants – that is so special it can't be ignored. When we make an investment in this category, get in your car or hop online with your credit card ready because we are absolutely sure you won't be disappointed!
Select Investments
Spindrift Beverage Co
2014 – Present
MarginEdge
2018 – Present
Starbird
2018 – Present
Dos Toros Taqueria
Jun 2018 – Present
One Mighty Mill
Jun 2018 – Present
Athletic Brewing Company
Dec 2019 – Present
Co-Founder & Board Member
Jan 2004 – Jun 2016
Sold in 2017. Grew to a peak of 80 locations before Covid took it down… big time. Was an honor to be part of the founding team way back when and staying out of the way.