Unsent – A letter to Author John Irving
I've tried so many things to become a writer. One time I crafted a note to John Irving… that I never sent. You need to actually send letters, take the risk, to make things happen.
September 2, 2012
Dear John,
Amazingly, we've never met. As I push through the halfway point of "The Last Day at Twisted River", I thought the time had come to write to you. While many of us share similarities on this earth, you and I share an incredible likeness in the places we choose to spend time, think about, write about.
As I write this I've pulled over on the 401 to let the dogs relieve themselves a few miles short of Cornwall, where I'm planning to cross the border. I just finished my 2-weeks up in Pointe au Baril… where I grew up during the summers, as did my mother, both of her parents (they met there in the 20's), and my grandmothers aunt, who bought our first island (St. Helena) in 1902.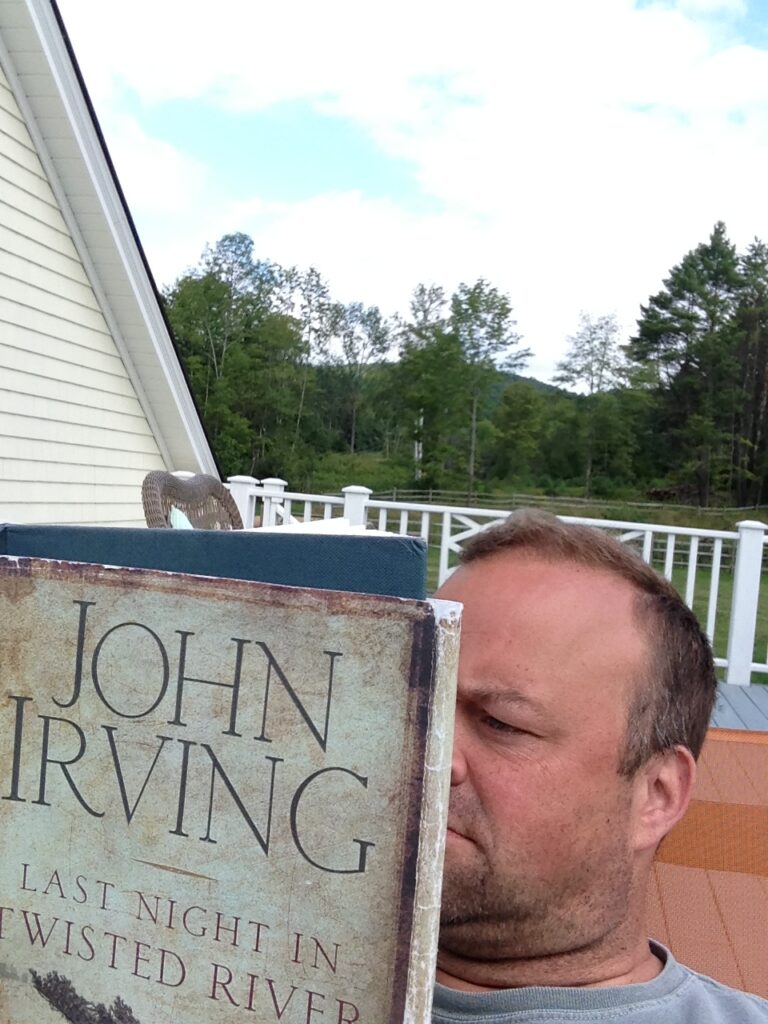 I will take the Plattsburgh ferry from NY to VT, always a welcome break from the drive. And then I'll stop at one of my businesses on Church Street in Burlington to say hi before moving south to Norwich, VT and Hanover, NH where I'll drop off our annual summer guest, Flynn (a 7-year old golden), owned by a professor of drama at Dartmouth, and drop the Thule off in the barn behind our house in Norwich. We lived in Norwich from 2003-2009, before moving to Boston full-time with my wife and two young daughters, Tibby and Izzy, so that I could focus more closely on my family of restaurants which I started there in 1997. Maggie, Tibby, and Izzy flew from Pearson to Boston early this morning so they could "get back into the system", as Tibby (8) insisted was a good idea for the last few days. I complied. Plus, it's never bad to get some alone time, even if for only a few hours in the car (plus this current bonus of sitting in the park at the "On Route" rest stop south of Cornwall writing to you).
Finally, I'm an aspiring writer. I really do love to write. In some cases, people tell me I'm even good at it.
I've attached a "chapter" (if you can call it that) of the book I started in Pointe au Baril in the summer of 2011. It's a book about a company that doesn't deserve to have a book written about it by a guy who shouldn't be writing a book. But because I know there really aren't any rules when it comes to what can be written, I carried on until about 65 pages when I began to question why carry forward. I tabled my manuscript from Labor Day 2011 until just 2 weeks ago.
Where does all this lead? Well, as I'm sure to the same place as many others…namely, I'd love to find a chance to meet you in person. With all of our common meeting grounds (PAB, Toronto, VT, NH, Boston) I figure our schedules, while both busy I'm quite sure, must put us in the same vicinity from time to time. We live on the Boston Common downtown if you are ever down there, and of course I'll be making 2 more fall trips to PAB, the first on Sept 28 and the second over Canadian Thanksgiving weekend (where we typically celebrate with the Massies, who I believe you have met). We rent our house in Norwich to Tuck MBA students this year, so we're not up that way as often, though we hope to earn the right to stop renting the house beginning in the fall of 2013. It's heaven up there, and we hate not being there.
I've enjoyed reading your stories for many years, especially Owen Meany… and Twisted River may rank right up there with a Prayer. But mostly, I can't help but think we should meet, given our propensity to follow each other, unknowingly, to what I'm sure we both agree are the most beautiful, in so many ways, places in the world.
I hope to hear from you.
John Pepper