Oh Canada
Day 8 and I had so much to say today, but nothing to say now that I'm sitting down to write. It's really hard to stare at a blank screen and say anything that even remotely resembles wisdom. Especially when you I got caught owning too many shares of TSLA today as it dropped over 20%. Even with my put options in place, it was a tough day for sure.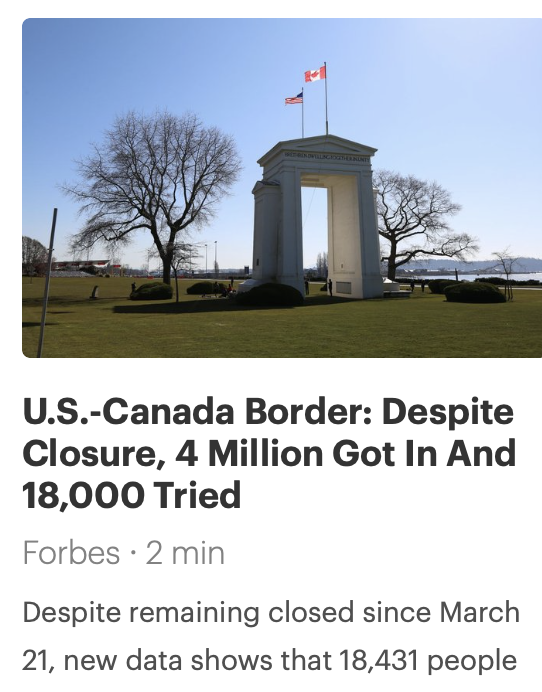 Although, now that I think about it, one article that came across the wire today was this one, confusingly entitled "US-Canada Border: Despite Closure, 4 Million got in and 18,000 tried". I'm sure when I read the article they'll explain why that's possible… but needless to say Izzy (our 14-year old) and I were among the 18,000. A few days after both governments extended the US-Canada border closure from June 21 to July 21 (which has now been extended until at least September 21), Izzy pushed me so hard to make a run for it that I finally gave in. We got in the Jeep one Saturday afternoon and headed north on Vermont I-91 to the Derby line border near Lake Memphragog into Quebec.
We did our very best to convince border patrol we had a legitimate, "essential" reason to cross in and head over to our beloved cottage in Pointe au Baril, Ontario on beautiful Georgian Bay.
As we pulled up, there was not a car in sight. One lane was open, and nobody manned it. When we stopped, a gentleman slowly entered the booth without looking at us, sitting down in a rotating chair. Slowly he spun towards us, with a little bit of a smirk and smile combo – he hadn't decided which to use yet.
"OK, what's the story here?" he said in a French Canadian accent, clearly having heard all stories even in those early days. He had not heard mine, and I did not disappoint. After providing a detailed history of our Canadian roots dating back to the 1890s and early 1900s when my great great Aunt Helen hopped off a steamship and purchased a small island in 1902, her brother built the Ojibway Hotel, and my grandparents met as teenagers up there in the 20s. And so on. And so on a little more. And then the punch line… my grandfather wrecked my grandmother's 1937 Seabird mahogany boat in 1979 and gave it to me after failing to sell it when I was about 15. In 1996 I finally got it restore and launched and it's been going strong ever since… until, of course, Covid hit. Now I needed to get up there, bring it back to the US… or, it would rot and… it was really important and essential. This was the story. And it was true. That boat is always rotting. By this point, Izzy, in the passenger seat, also the designated videographer for the episode, is realizing that this is becoming serious and turns out stopped filming almost instantaneously. Her eyes get even wider when the border patrol guy says "ok, hold on, let me go talk to my supervisor."
A minute later he returns and invites us into the building. This is very good news, and also potentially very bad news. All of a sudden trying to cross the border has become VERY serious business.
A few weeks later an article in the Financial Times came out talking about Aunt Helen and Uncle Hamilton. I do wonder if that would have helped (it wouldn't have, I know). Here is that article, and a picture of Aunt Helen.
Upon entering, a group of Canadian officials are convening about our situation. Not one other car in this usually very busy and backed up crossing has approached. After a few more minutes, a new gentleman asks me to come speak to him.
"So let me understand this story one more time," he says. I begin again, and he stops me quickly. "That's ok… we have the story."
"Let me explain," he says kindly. "Today you will not enter Canada. You can have someone meet you here with the boat and we will permit you to take it from that person, but you will not cross the border for any reason." I pressed a couple of times on what circumstances would allow us to cross on that day, and he was extraordinarily clear that there were none.
In the end, we thanked them and they handed us our documents along with this official notice that we could return to Canada in the future, without a special hearing. Like I said, very serious.
With tail between our legs, we got back into the car and did the required U-Turn back to the US. The US border patrol now got their chance at a little fun, but luckily the second question "what do you do for a living?" to which I answered "A restaurant chain called Boloco" was met with incredible enthusiasm and passion. He was a fan, from Boston and back in his UVM days when we were open on Church Street in Burlington. We were soon on our way again.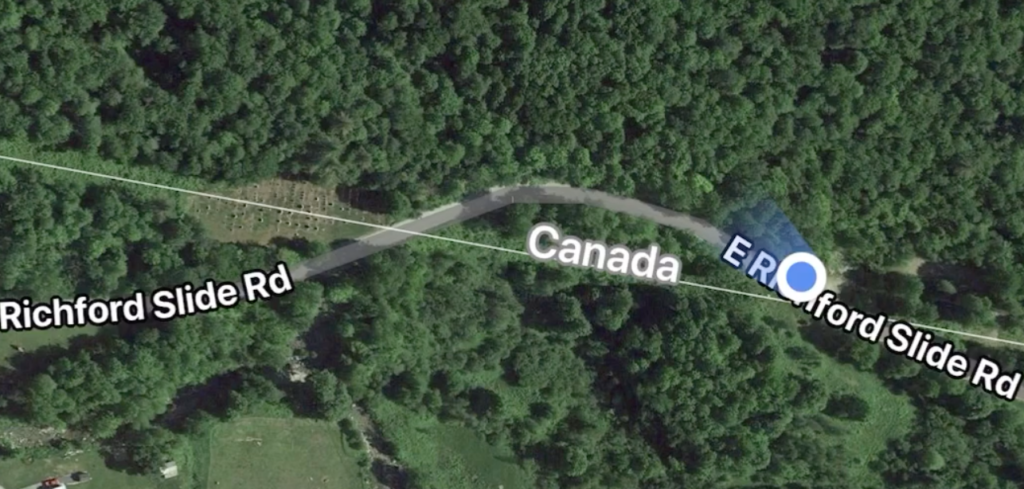 Izzy and I decided to make the most of the effort to the border. We followed the very tippy top of the VT-Quebec border all the way from Derby west… until we hit Lake Champlagne. It was truly a thrill to see so many border crossings, the various ways we delineate the border, some of the high tech hidden cameras in cow pastures, and even houses that had half of the home in Canada, the other half in the United States. In a couple of instances, the northernmost road across the top Vermont actually enters Canada without any border patrol. But you'd have to take it on foot from there, and while I'm sure we could, the penalties for breaking in are severe (perhaps including a ban from returning for a number of years).
It was a beautiful day. We are still pretty heart broken not to be able to reach our beautiful Georgian Bay, and we pray that the border will reopen to, at the very least, property owners between now and September 21.