Patriots to Super Bowl…
I loved this Tweet from earlier today. For a while there it looked like the rings would be staying on the right hand. But after a brilliant 4th quarter, its time to expand to the left.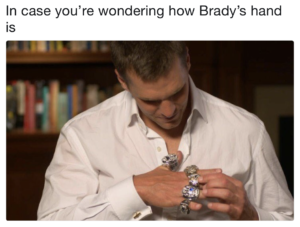 I grew up rooting for the Cincinnati Bengals – from ages 3-25. I got to go to Super Bowl XXIII in Miami when they Bengals lost to the 49ers. I wondered what it must have been like to have a home town team like SF did.
Around the time I started Boloco, in Boston, I started paying attention to the Patriots.  I was finishing up at Tuck and New England now represented 6 years of my life, nearly as long as I had lived in Ohio. It took about 3 years as a Bostonian to have a Superbowl under our belt. Three years later the Pats had won 3 of 4. And now they've won the last 2 of 3, with a chance at a 6th win in 2 weeks.
So, no, I no longer wonder what it felt like to grow up in SF having a team like the 49ers in the 80's.