Values at All Costs & A Personal Booklist
I received a Tweet over Thanksgiving that I really appreciated. I've attached it here, but in short "Mike Severe" asks me how the Boloco culture stays committed to providing "value" in a business environment that is typically focused on keeping costs low and making as much money as possible. Mike also implies there is a booklist I might have that could shed some light on this conundrum (there was no such booklist 2 weeks ago, but because of his request there is one now – shared at the end)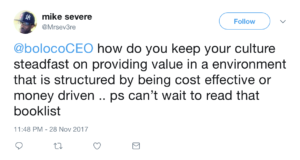 First, I wish I could claim to have any of this stuff figured out. At any given time, providing value is an endless balancing act and I feel like a very wobbly tightrope circus performer. I've fallen many times.
A great chunk of the value we provide to our guests is a combination of the quality and taste of food they perceive and have heard from others that we provide, the speed, accuracy and friendliness with which they receive their orders, the experience as a whole (music, seating, smells, décor, cleanliness, etc.) and the price we charge for those things versus others in our business who have similar offerings. Marketing and resources too often have more to do with perceived value than the reality of the value provided… but as we know, perception is reality. So it doesn't really matter what reality is until perception catches up with it (or when the public determines that reality doesn't live up to perception, which happens a lot when people start looking under the hood of companies).
On that note, one aspect of value that has for a long time been undervalued, but seems to be changing quickly these past few years, is how one's business or product provides or takes away value from things outside of the direct guest experience. And this gets to the heart of Mike's question.
For most of our 20+ years in business, Boloco has aimed to used delicious food to achieve a unique mission in the fast-food business… to positively impact (perhaps even transform) the lives and futures of our people through bold and inspired food and practices. Most of the time that came and still comes in the form of much higher wages than our peers and competitors, better benefits as well as perks that at the time were nearly unheard of. Something I am particularly proud of is when Boloco turns out to be part of the critical training and development people require to actually move beyond Boloco, if that's what they want… to get back on track to lost dreams they had of who they would be in the world and how they might contribute. In the restaurant business, it became clear to me very quickly (starting in 1998, one year after inception) that teaching English was a most important way to help break down barriers to taking on more responsibility, earning higher income and eventually being offered higher paying jobs outside of the restaurant industry. We leaned in hard on these things for the last two decades, and customers who spend their money at Boloco should know that their funds have helped allow these important initiatives to happen.
Being generous to our communities and the many good organizations in our neighborhoods is also a way to positively impact lives… when asked to support good causes, we can't always do everything asked of us, but our default answer is "yes, we can help". Recently we hired our first Head of Social Impact… he handles all of what used to be called "marketing"… the difference being that we don't do marketing anymore unless it has some connection to providing a benefit to the local community. You may have heard of this guy… Tom O'Keefe, aka @bostontweet on Twitter and Instagram. We met many, many years ago because he loves burritos – especially Anna's Taqueria, as do I – but he joined us because of what we stand for and aspire to stand for. Because of the value we try to provide beyond the food…
And finally, related to value, we asked ourselves in 2001 or so, how do restaurants like Boloco cause less harm to the environment? Make no mistake, restaurants do harm the environment. So, we wanted to see how we could start doing less of it. We were one of the first chains in the US to be Certified Green by the Green Restaurant Association. None of these certifications, incidentally, mean we've "arrived", nor do they mean we are any better than anyone else. But they do represent a contractual and financial commitment to holding ourselves accountable to rising standards of responsible practices with each passing year.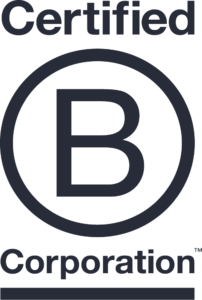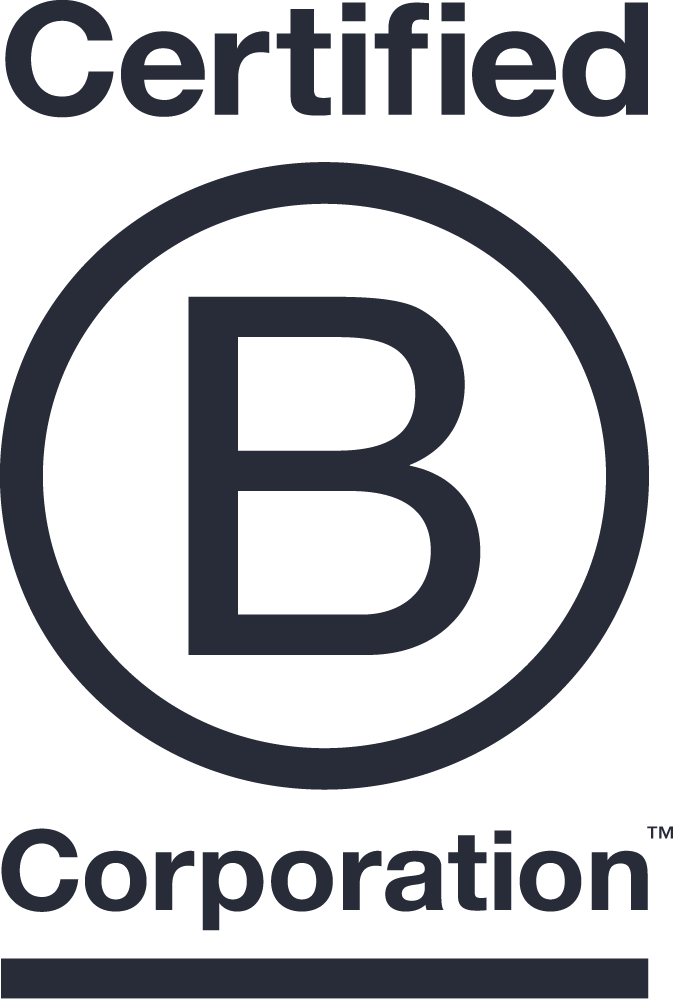 All of this culminated in our becoming a Certified B-Corp in February 2016.
"B Corp is to business what Fair Trade certification is to coffee or USDA Organic certification is to milk."
B Corps are for-profit companies certified by the nonprofit B Lab to meet rigorous standards of social and environmental performance, accountability, and transparency.
As well, Boloco legally converted from a standard "C" Corporation (where shareholder value is the only true fiduciary responsibility) to a Benefit Corporation which adds things like social justice and environmental stewardship to our list of fiduciary responsibilities… think triple (and sometimes quadruple or more) bottom line.
Mr. Severe, you got more than you bargained for here, I realize. And I wasn unable to keep my response to 140 characters… or even the new 280 Twitter allows. As I reread it, I'm not even sure I understand all that I've written, so let me know if you do… I can keep going, or perhaps cut some of the detail if that is adding to the confusion. The bottom-line is that value at Boloco is comprised of the standard things that customers demand and see (quality, service, cleanliness, price) as well as things that are more often hidden under the hood, but that make a burrito or bowl at Boloco the highest value food purchase of perhaps any fast food chain in America. It sounds like I'm exaggerating, and perhaps it could be proven that I am, but I'll make the claim anyway and then allow others to paint crosshairs on me and fire shots of skepticism my way. If nothing else, it will allow us to find unknown shortcomings and we can add to our extensive B-Corp to-do list items.
What was that PS again?
Oh… the booklist. I'm going to share with you my personal booklist that at one time shaped or currently shapes some of my thinking as relates to Boloco. Please realize that in some cases, like with Ayn Rand's Atlas Shrugged, for example, what you read in the press (most of it negative these days) does not necessarily match the takeaways or benefits I personally received. Too often books like Atlas Shrugged are summarized in ways that take away from the many messages and lessons learned available in individual chapters or even in single paragraphs or sentences. So, by including a book below, I am not necessarily endorsing everything written in the book or the (often incorrect) things that others claim that liking such a book might imply. Consider in some cases that I might even have found some or all of it offensive, and yet thought-provoking or educational and therefore important.
NON-FICTION:
Originals: How Non-Conformists Move the World
Adam Grant and Sheryl Sandberg
(Note: Only 1/3 of the way through but loving it)
Pour Your Heart Into It
Howard Schultz
Onward: How Starbucks Fought for Its Life without Losing Its Soul
Howard Schultz and Joanne Gordon
Four Seasons: The Story of a Business Philosophy
Isadore Sharp
Folks, This Ain't Normal: A Farmer's Advice for Happier Hens, Healthier People, and a Better World
Joel Salatin
Setting the Table
Danny Meyer
Who: The A Method for Hiring
Geoff Smart and Randy Street
The Clean Money Revolution: Reinventing Power, Purpose, and Capitalism
Joel Solomon and Tyee Bridge
Getting Things Done: The Art of Stress-Free Productivity
David Allen
Drive: The Surprising Truth About What Motivates Us
Daniel H. Pink
The Rhythm of Life: Living Every Day with Passion and Purpose
Matthew Kelly
The Good Jobs Strategy: How the Smartest Companies Invest in Employees to Lower Costs and Boost Profits
Zeynep Ton
Super Brain: Unleashing the Explosive Power of Your Mind to Maximize Health, Happiness, and Spiritual Well-Being
Rudolph E. Tanzi and Deepak Chopra
Mindset: The New Psychology of Success
Carol S. Dweck 
In My Own Words: An Introduction to My Teachings and Philosophy
His Holiness The Dalai Lama and Rajiv Mehrotra
The 4 Disciplines of Execution: Achieving Your Wildly Important Goals
Chris McChesney, Sean Covey, and Jim Huling
The Seven Habits of Highly Effective People
Stephen Covey
The Four Desires: Creating a Life of Purpose, Happiness, Prosperity, and Freedom
Rod Stryker
The Three Laws of Performance: Rewriting the Future of Your Organization and Your Life
Dave Logan and Steve Zaffron
The Thank You Economy
Gary Vaynerchuk
(Note: Boloco is featured, which may bias me here!)
What Really Matters
John E. Pepper, Jr.
(Yes, he's my Dad, so of course I'm including him in here 😉
FICTION that had Impact on me in some manner: 
Lexicon: A Novel
Max Barry
Crossing to Safety
Wallace Stegner
City of Thieves: A Novel
David Benioff
Atlas Shrugged
Ayn Rand
The Fountain Head
Ayn Rand
A Prayer for Owen Meany
John Irving
Zen and the Art of Motorcycle Maintenance: An Inquiry Into Values
Robert M. Pirsig
Note: A really, really hard one for people to stick with… but I did and I am so thankful.